The biggest continent on the planet, Asia is home to diverse cultures and for travelers, an equally diverse range of experiences. From parties in Thailand to quaint days in Kyoto, from adventures in the forests of Vietnam to skydiving over the Palm Island in Dubai, Asia naturally has something to offer to every kind of traveler.
While each experience in Asia is best experienced at a specific time of the year, there are certain months that have an unusually large amount of experiences on offer. Sitting slap bang in the middle of winter and the holiday season, December is one such month.
Whether you're interested in witnessing a snowy winter in Moscow, or want to see how the Chinese celebrate to welcome the New Year, December is the only month you can do it. However, Christmas and New Year aren't the only unique things happening in Asia in December, there is plenty to see and go across the continent.
If you're planning a trip in December, and are unsure about what to see and what to do, or even unsure whether you must plan a trip to an Asiatic country in December, this article is for you.
Read on as we tell you everything you need to know about vacationing in Asia in December.
Reasons To Visit Asia In December
Reasons to visit Asia in December are many; from celebrations to amazing weather; you can choose the reason that you like. Some of the top reasons to go for a trip to Asia in December are mentioned below.
1. Dry Season In SouthEast Asia2. Christmas Celebrations3. The Russian Winter4. The Hmong New Year5. The International New Year
1. Dry Season In SouthEast Asia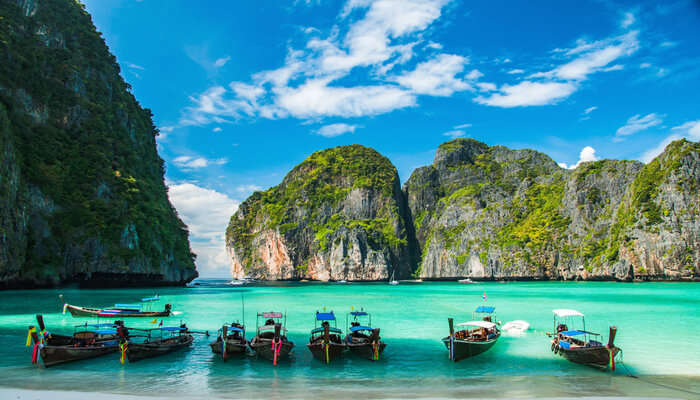 While countries like Indonesia and Japan struggle with thunderstorms and endless rains, there are others like the Philippines, Cambodia, Laos, Vietnam, Thailand, Taiwan, India, and Sri Lanka that experience delightful sunny days. Naturally, the month of December, combined with beautiful weather means peak tourist season for many of these destinations, making them exceptionally busy during December.
This means, not only can you enjoy dry sunny days on the beaches of Vietnam, you can meet interesting travelers from all over the globe in one of these backpacker friendly countries.
24 Best International Trips Under 50k For Your Bucket List 2022!
2. Christmas Celebrations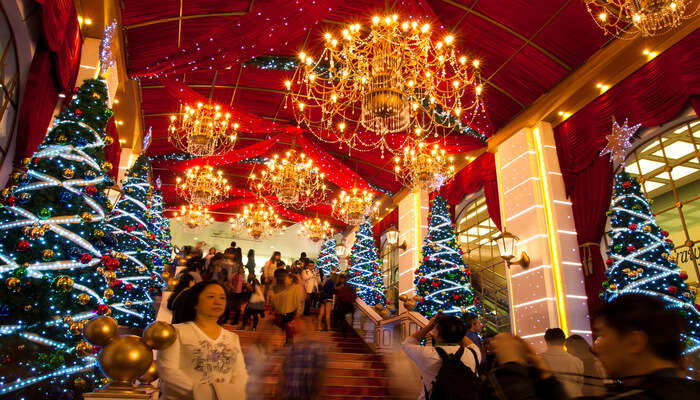 Thanks to the spread of Christanity among different cultures, the celebrations of CHristmas may vary dramatically between countries. While this contrast isn't that strong in the Western World, Asiatic countries are known to hold some of the most unique and colourful celebrations of Christmas.
For instance, in Japan, Christmas is viewed more as a romantic holiday instead of a family holiday. On the other end of the spectrum, Christmas time in the Philippines involves the local visiting the churches in large numbers to attend a Christmas Mass before enjoying Noche Buena or a fantastic Christmas meal with their families.In major cities like Singapore, Tokyo, and Bangkok, the town is literally painted red with grand Christmas celebrations and lights illuminating every nook and corner of these cities.
In simpler words, Christmas time in Asia is nothing short of magical, and is a must-have experience in your bucket list.
25 Best Honeymoon Destinations In Asia In Summer Of 2022
3. The Russian Winter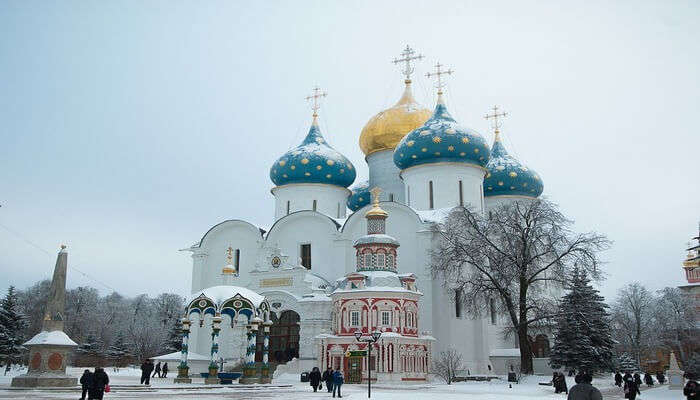 Image Source
If you think about the Russian winter and all that comes to mind is expansive stretches of snow covering everything in sight, you might be mistaken. While your mental image may be accurate for some lesser known towns of Russia, the more touristy towns and cities like Moscow are turned into winter wonderlands.
If the Christmas decorations don't take your breath away, the sight of a decorated St. Basil's Cathedral amidst a snow covered backdrop surely will.
In other words, if you don't mind some seriously cold weather and love snow, December is the perfect time for a visit to Russia.
Hong Kong In June: Explore The Asian Heaven On Budget
4. The Hmong New Year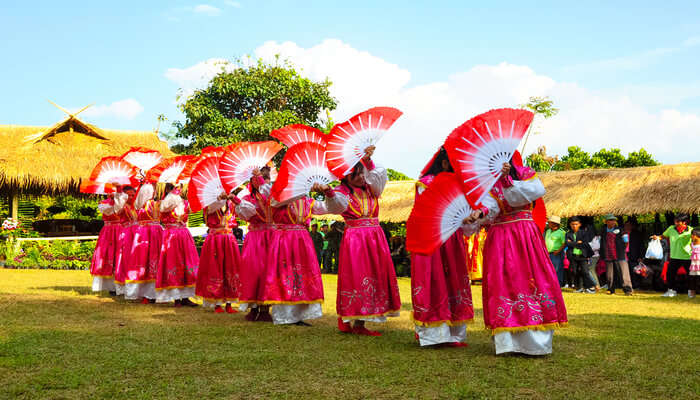 The Hmong people are the largest ethnicity living in parts of North Laos, Vietnam, and Cambodia. In their culture, New Year is celebrated in the beginning of December, with great vigour and colourful celebrations.
The exact day of the celebration depends on the harvest date of rice, which is the staple food in these areas. The celebrations of Hmong New Year are perhaps the only time when Hmong people get a break from farming and thus, it is celebrated with a lot of enthusiasm. From festivals and games, to quality time spent with social acquaintances, the Hmong New Year is a truly unique experience.
Philippines In June: A Wonderful Time To Visit The Asian Nation
5. The International New Year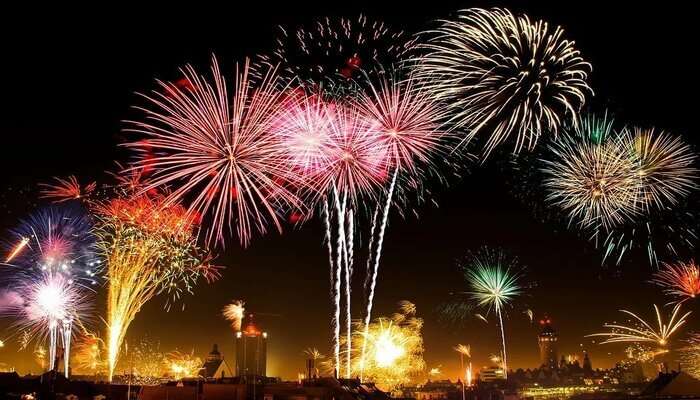 Image Source
No article about December will be complete without talking about the NEw Year celebrations. The International New Year is celebrated with great excitement in Asia. The time is observed in unique ways all over Asia, from all-nighter parties in Bangkok to music festivals in Goa, from traditional celebrations in China to celebrity performances in Seoul, if you're looking for a great way to kick off the new year, the destinations in Asia will not disappoint.
Now that we have several reasons to visit the magical continent of Asia during December, here are a few places that must find a place in your vacation itinerary:
Make Note Of These 10 Tips To Follow Before Planning An International Trip From India!
Places To Visit In Asia In December
1. Bangkok2. Siem Reap3. Ho Chi Minh City4. Boracay Islands5. Pokhara
1. Bangkok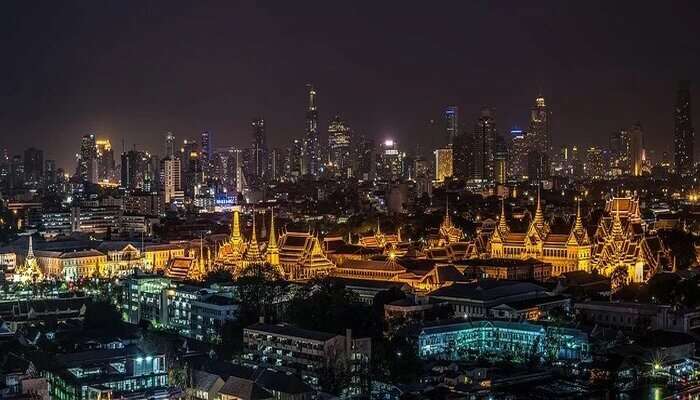 Image Source
If a grand party is what you're looking for in your December vacation, Bangkok is the place to be. Even when there are no Christmas and New Year celebrations on the horizon, the city is thriving with activity.
The best part is, parties are not the only thing that will keep you engaged during your time in Bangkok. In fact, the small city is loaded with unique experiences. From boat rides and cruises, to hidden temples and unique markets, Bangkok has something for every kind of traveler.
International Destinations On Diwali Weekend 2022: 10 Places That Can Light Up Your Holidays
2. Siem Reap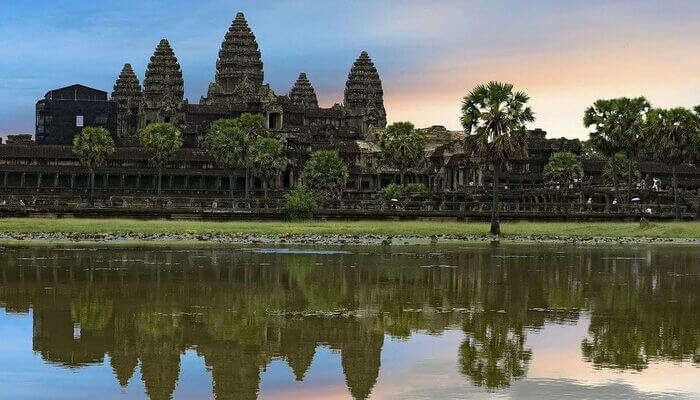 Image Source
Siem Reap, also known as the gateway to the great temple of Angkor Wat, is a delightful little city in Cambodia that gets extremely busy with activity during December.
Almost every day, the city hosts at least one special event that is attended by locals and visitors alike. The festive season in Siem Reap is made even more delightful with the pleasant weather and the presence of numerous spots of tourist interest in the vicinity.
Toronto International Film Festival 2022 Includes The Likes Of Meryl Streep & More
3. Ho Chi Minh City

Image Source
Emerging as a haven for backpackers, Ho Chi Minh City is lively throughout the year. However, during December, the city pulls all the stops to celebrate the festive season with unmatched enthusiasm.
What makes the celebrations even more interesting is the presence of thousands of visitors coming from different cultures to be a part of the Christmas celebration in Vietnam's capital.
Low humidity, pleasantly warm weather, and the presence of an atmosphere charged with the festive spirit, December is perhaps the best way to visiHo Chi Minh Cityt the city of Ho Chi Minh.
6 Places To Visit In Asia In November: An Escape From The Snow Into The Tropics
4. Boracay Islands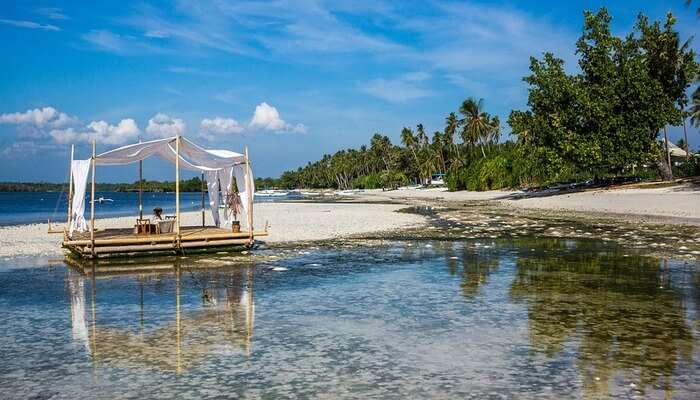 Image Source
While Ho Chi Ming is a backpacker friendly city, Boracay sits comfortably on the other end of the spectrum. Dotted with luxury resorts and sandy beaches, a visit to Boracay Islands is sure to take you back in time. While the city's hotels and resorts reek of luxury, the city itself operates like its 1975. Almost everyone you will see will be getting around either on foot or on a bicycle. All the hotels are connected by a sandy trail, instead of roads, and the best part is, the alcohol is also priced like its 1975!
If you're looking for an opulent getaway in Asia coming December, BOracay Islands is the place to be. THe only thing you need to keep in mind is to plan your trip to Boracay Islands in the latter part of December as there are still high chances of rain in the first 15 days of the month.
The Great Niah National Park Guide: The Birthplace Of Civilization In Southeast Asia
5. Pokhara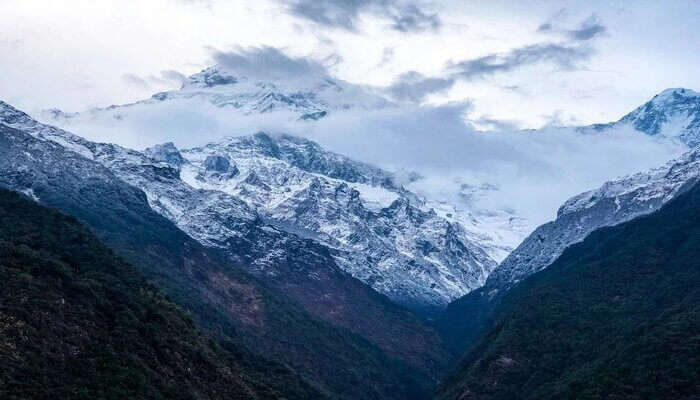 Image Source
If you're a mountain person, and are looking for an extra special place to visit in Asia, nothing can trump Nepal. Home to the mighty Everest, Nepal boasts a remarkable collection of views, valleys, trekking tails, and pocket-friendly accommodation options.
While it is true that the temperatures will be low during December, lower altitude regions of Pokhara get pleasantly warm sunlight during the day, making it perfect for some touristy exploration.
Don't let the size of the country fool you, there will be plenty of options for those looking to be a part of Christmas or New Year celebrations.
Here's Why The Cleanest Village In Asia, Mawlynnong Deserves More Tourists In 2022
Activities To Try In Asia In December
1. Food Tasting2. Visit To The Great Wall Of China3. Ride The Ha Giang Loop In Vietnam
1. Food Tasting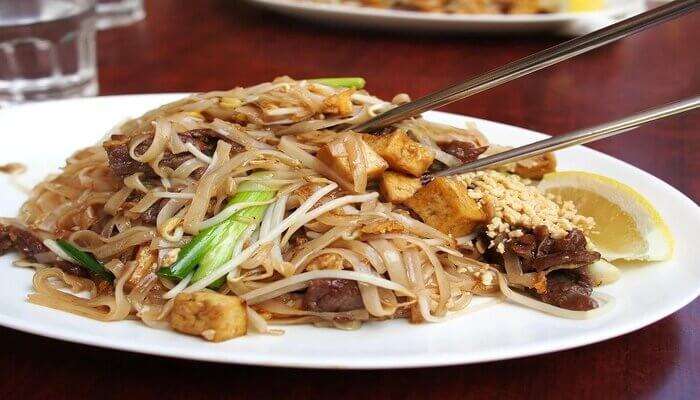 Image Source
Asia is home to some of the most peculiar cuisines on the planet. Not to forget, the supercontinent houses a staggering variety of drastically different cuisines. From seafood centric dishes in THailand to spicy food in Rajasthan, from ceremonial tea in Japan to street food in the Philippines, the number of options are endless.
36 Best Places To Visit In Southeast Asia In 2022 That Won't Let You Put Your Camera Down!
2. Visit To The Great Wall Of China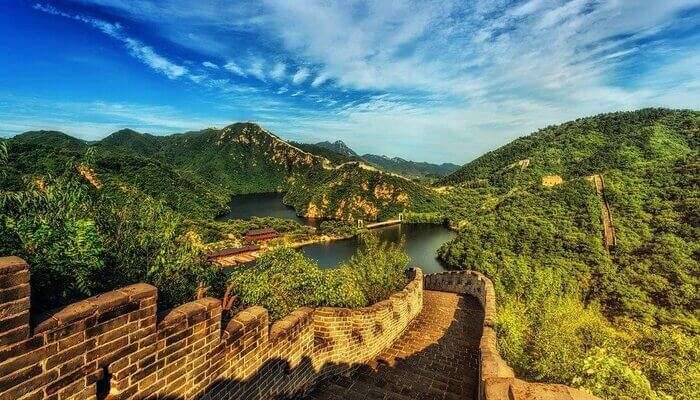 Image Source
The Great Wall Of China needs no introduction. A popular tourist destination around the year, the wall is on the bucket list of many, and December is the perfect time to tick it off your list, while engaging in some Chinese-style celebrations of New Year and Christmas.
3 Places To Visit Near Asian Civilisations Museum That Are Perfect For The Explorers!
3. Ride The Ha Giang Loop In Vietnam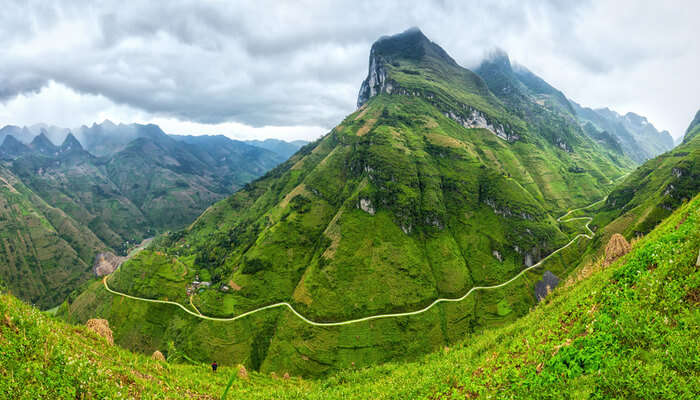 One of the most famed riding circuits on the planet, the Ha Giang Loop is a biker's dream. THe four to five day road trip is an ideal activity for those visiting Vietnam in December. With easily available bike rentals and the presence of guided tours, along with a variety of online guides on the road trip, it is a once-in-a-lifetime experience that you can embark upon.
23 Romantic Honeymoon Destinations In Asia In 2022 For Every Budget
The enormous continent of Asia has no dearth of places to visit or sights to see or things to do, regardless of the time of the year. With that said, December is considered to be the festive season across the globe, and thus, a trip to Asia in December can turn out to be surprisingly special.
Disclaimer: Some images are for representation purposes only. TravelTriangle claims no credit for images featured on our blog site unless otherwise noted. All visual content is copyrighted to its respectful owners. We try to link back to original sources whenever possible. If you own the rights to any of the images, and do not wish them to appear on TravelTriangle, please contact us and they will be promptly removed. We believe in providing proper attribution to the original author, artist or photographer.
Please Note: Any information published by TravelTriangle in any form of content is not intended to be a substitute for any kind of medical advice, and one must not take any action before consulting a professional medical expert of their own choice.
Frequently Asked Questions About Places To Visit In Asia In December
What is the best time to visit Indonesia?
Between May and September, when the weather is dry and sunny. After September, Indonesia attracts a number of thunderstorms and typhoons that can potentially ruin your holiday plans.
Do I need a visa to visit Pokhara?
Yes. However, Nepal offers Visa on arrival facilities to Indian tourists. In order to avail the same, you must carry your passport.
Which Asian countries offer Visa on arrival to Indians?
Maldives, Nepal, Indonesia, Cambodia, Jordan, THailand, Laos, Bhutan, and Fiji are the Asian countries that offer visas on arrival to Indians.
Is December a good time to visit Japan?
Yes, December is one of the best times to visit Japan. With that said, some might find the cold Japanese weather a bit challenging. For this reason, it is recommended to pack some really warm clothing if you're visiting Japan in December.
Comments
comments